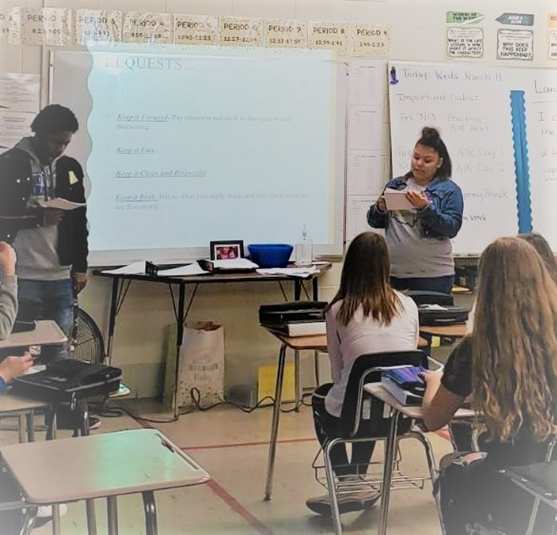 Peer Educator Qualifications:
-Must be between the ages of 15-24
-Must be an active parent
-Must have had a child at a young age
-Must be willing to share your story
-Good communication skills
-Reliable transportation
-Good standings with academics and school attendance
-Must be TANF eligible (family income is under 200% of the Federal Poverty Level)
No Kidding Ohio Overview
The mission of No Kidding Ohio Program is to educate youth about the rights, responsibilities and realities of teen parenting so that they can make informed decisions on issues related to parenting and relationship commitment, while building life and leadership skills among the teen parents who serve as peer educators.
The goal of the program is to promote responsible parenting while encouraging young people to delay parenting until they are financially and emotionally stable and in a committed relationship.
No Kidding Ohio curriculum consists of 3 sessions that are presented over a 3-day time frame.
Each session addresses different topics and has activities to promote classroom involvement.
In session 1, the peer educators (PE's) tell their personal stories and share how their lives have changed since becoming teen parents.
Objectives:
Students identify with the presenters as peers.
Students understand several issues that teenage parents face.
Students state how their own lives would be affected by having a child.
Notecards are passed out to the students before the PE's tell their stories. The students write down any questions that they have and the PE's answer these questions. This allows for anonymous questions, so the students are able to ask tough questions without feeling singled out.
In session 2, PE's talk about the roles fathers play, establishing paternity, and the benefits to establishing paternity.
Objectives:
Students identify legal complications for unwed parents.
Students understand the different roles a man can play in a child's life.
Students understand what paternity is and the different ways to establish paternity.
Students gain knowledge of the benefits to the mother, father, and child when paternity is established.
The fatherhood portion of the NKO curriculum shows the students the importance of having a father in a child's life.
At the end of session 2, the PE's show a video about the statistics of fatherlessness. They discuss the video with the class and also discuss their own childhood.
At the beginning of session 3, the PE's do a fatherhood activity that gives the students knowledge about fathers.
In session 3, the PE's talk about fatherhood, the cost of babies, and child support.
Objectives:
Students gain knowledge about the prices of major baby items (diapers, car seat, daycare, etc.)
Students understand that financial burdens are greater for teen parents than for non-parenting teens.
Students learn facts about child support and the importance of both parents supporting a child.
Students gain knowledge about the importance of fatherhood.